Auto-capture all your survey data and stay updated by integrating Google sheets into your survey.
No more switching between Google Sheets and survey responses every time. Adding the survey to your Google Account allows you to keep track of all your responses in one place in real time.
Not just your upcoming surveys, but you can even import all your previous data into Google Spreadsheet in a jiffy.
So put that Copy+Paste gestures on hold.
Let's explore how to integrate the survey with your Google Account to capture live data into Google Sheets.
Enable Access to Google Sheets
Once you've created the survey, click on the integrate tab at the top. Here you can find the list of Integrations available.

Scroll down to find the 'Google Sheets' option.

Clicking the enable toggle will require you to sign in with your Google account.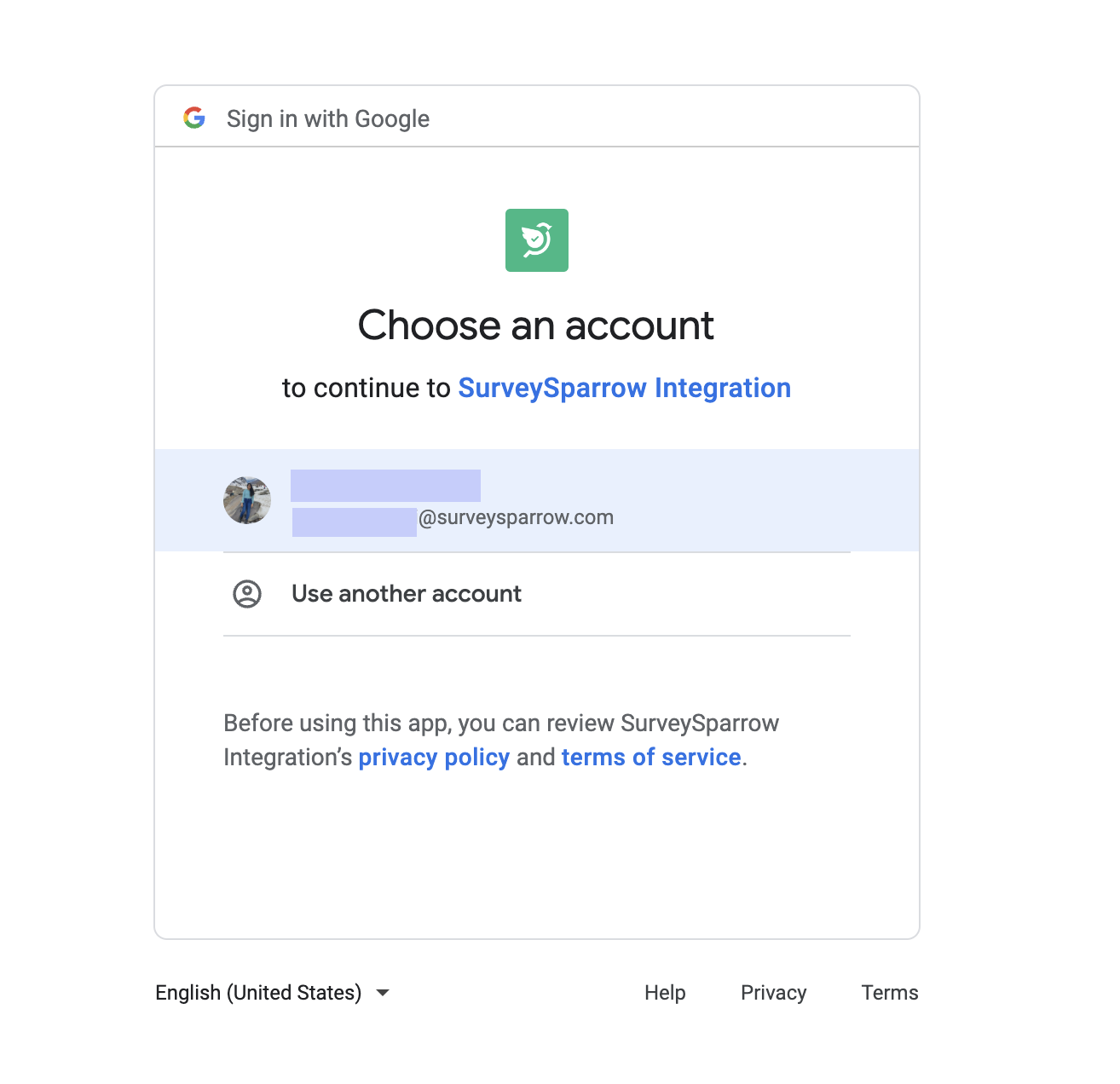 After successful sign-in, you can then allow SurveySparrow access to your account by clicking the 'Allow' button.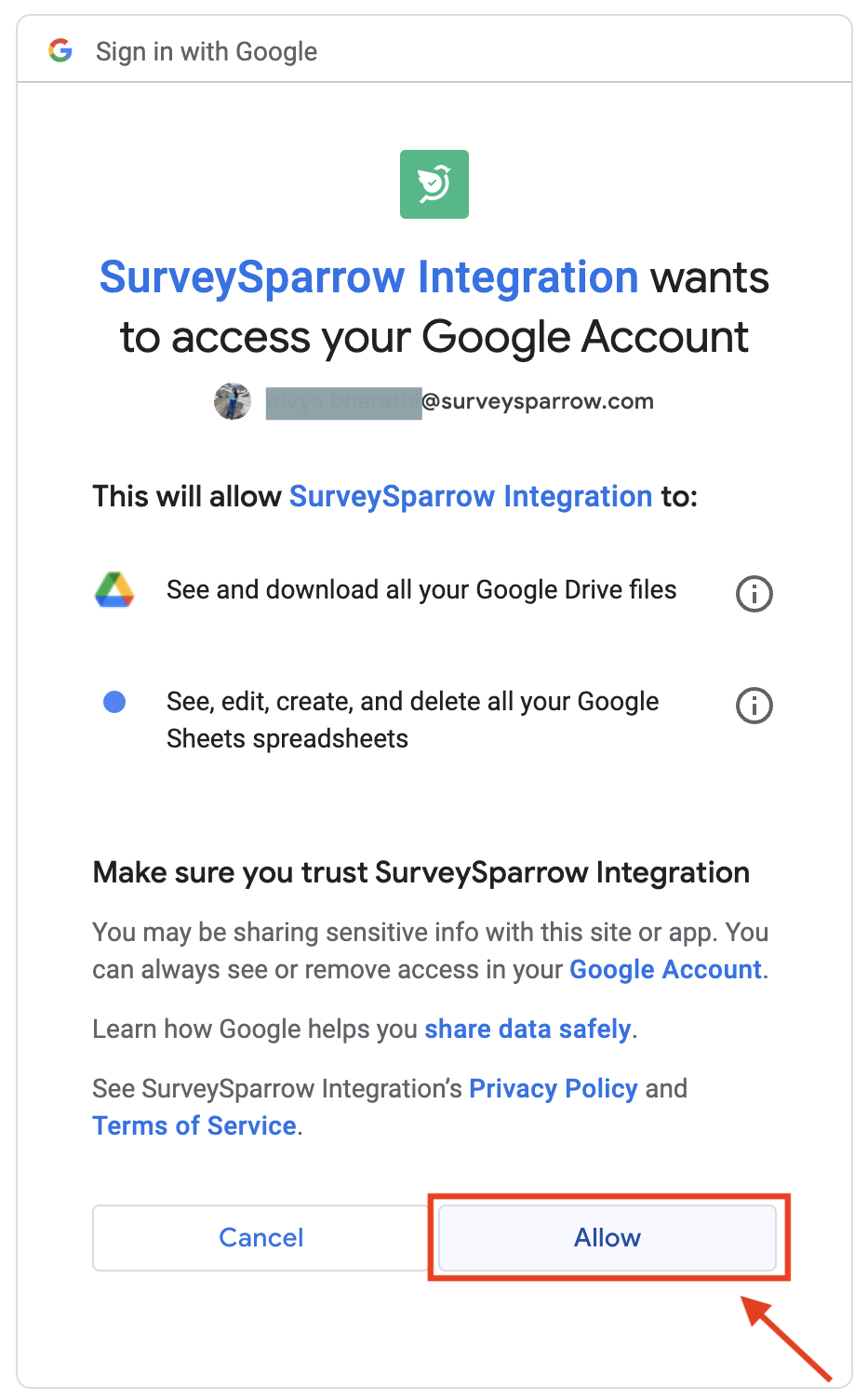 Yay! The Integration is now active.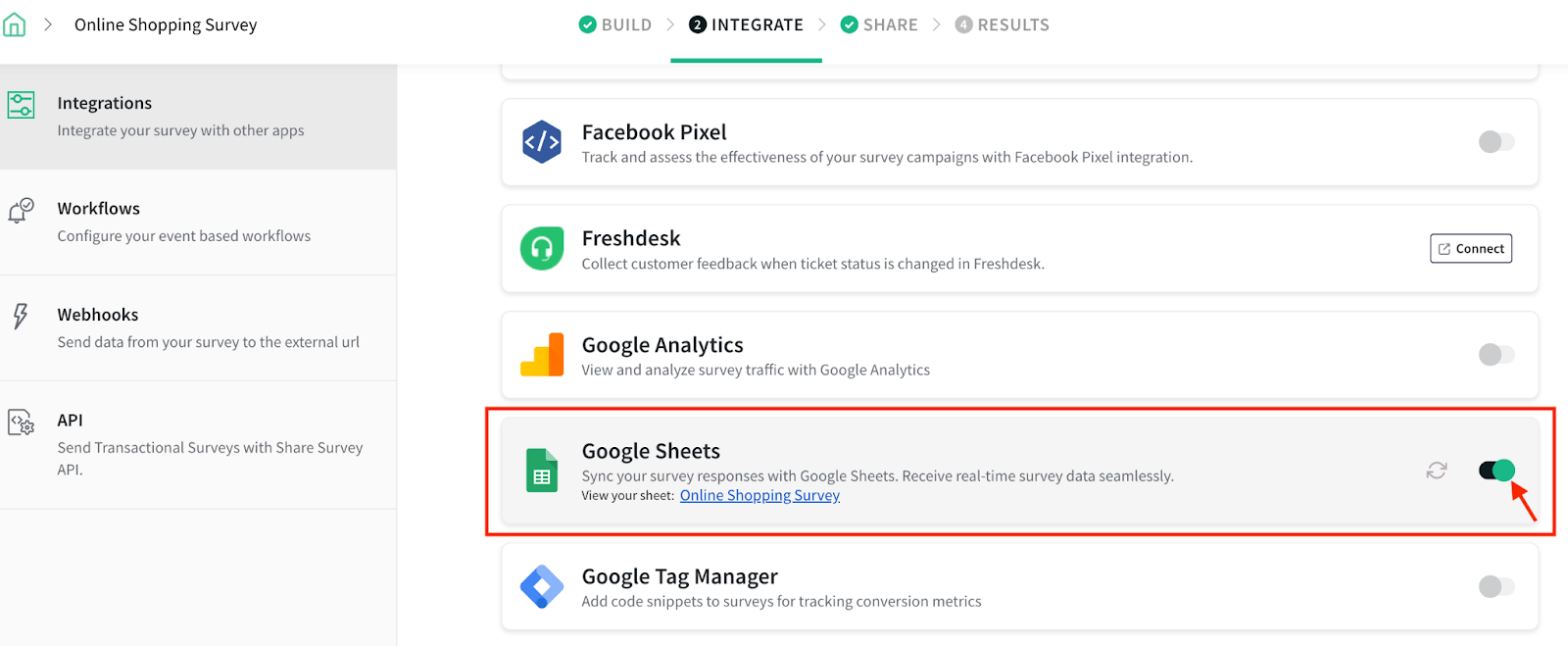 Setting up the Google Sheet
Now that you have successfully integrated your survey into your Google account, you can select the sheet where you want to collect the response data. There are three convenient options for you to choose from that are as follows,
Create a new Sheet
Under the 'Action' option, you can select 'Create New Sheet' to collect all your survey data in a new Google Sheet. Name the spreadsheet, and it will automatically appear in your Google account.
If you are trying to create a spreadsheet for an old survey, you can select 'import old responses' to add previous responses to the spreadsheet.
Add data to an existing sheet
You can also add all the survey responses to your existing spreadsheet by clicking on the 'Add to the selected spreadsheet,' and all the recent spreadsheets will be listed right below for you to choose from instantly.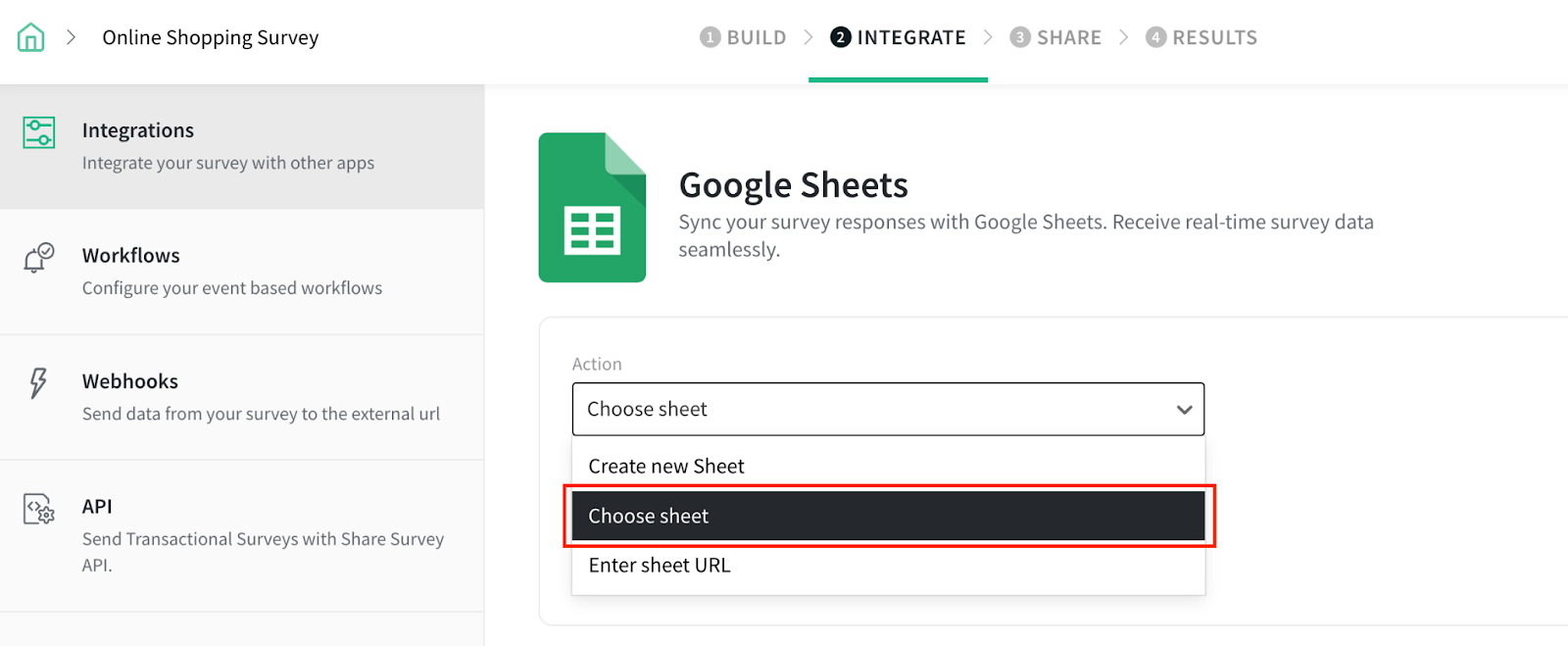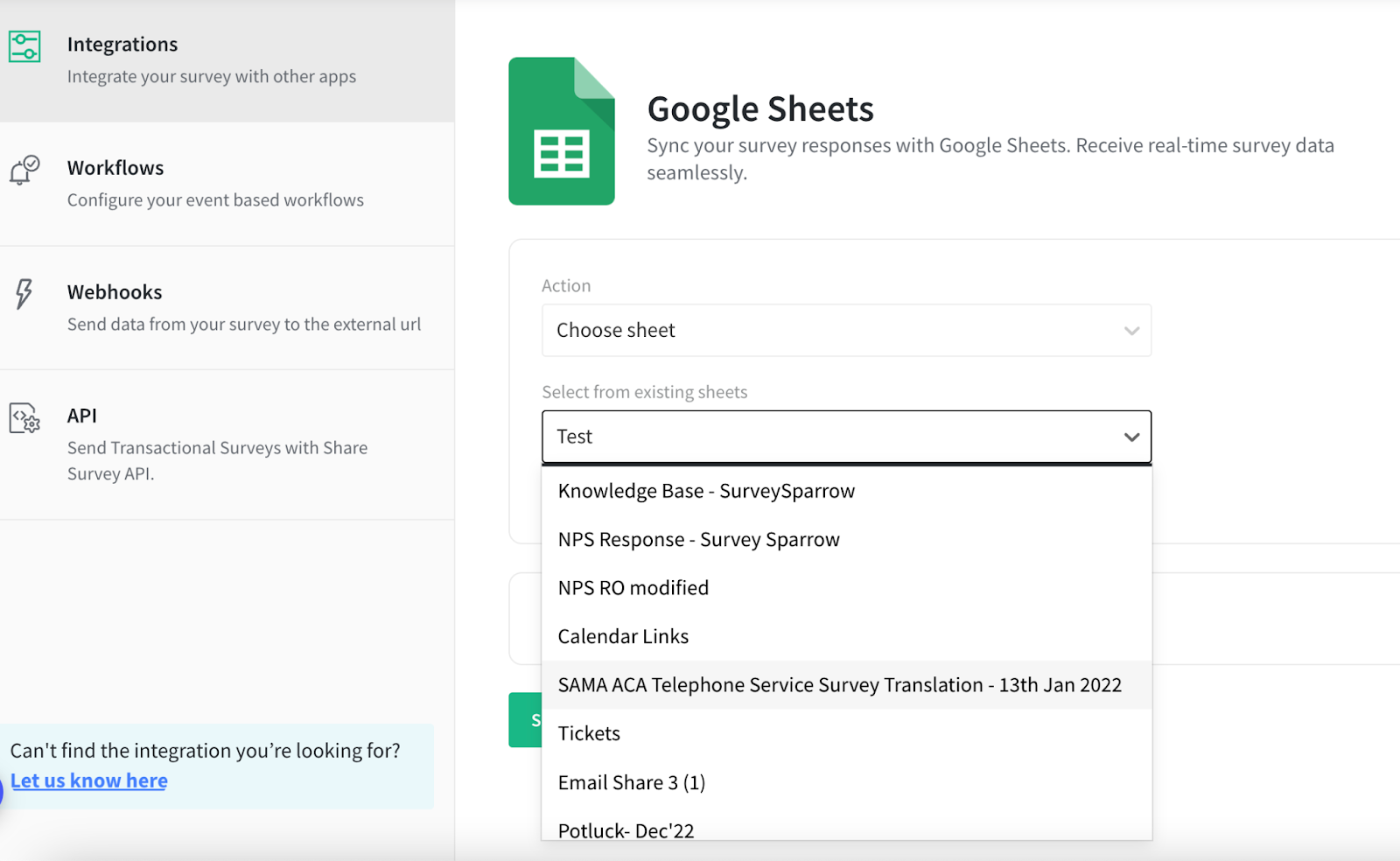 Enter the Sheet URL
It is even possible to add data to any spreadsheet saved in your Google drive by pasting the URL of that particular spreadsheet. It is necessary that you have edit access to that specific Google sheet.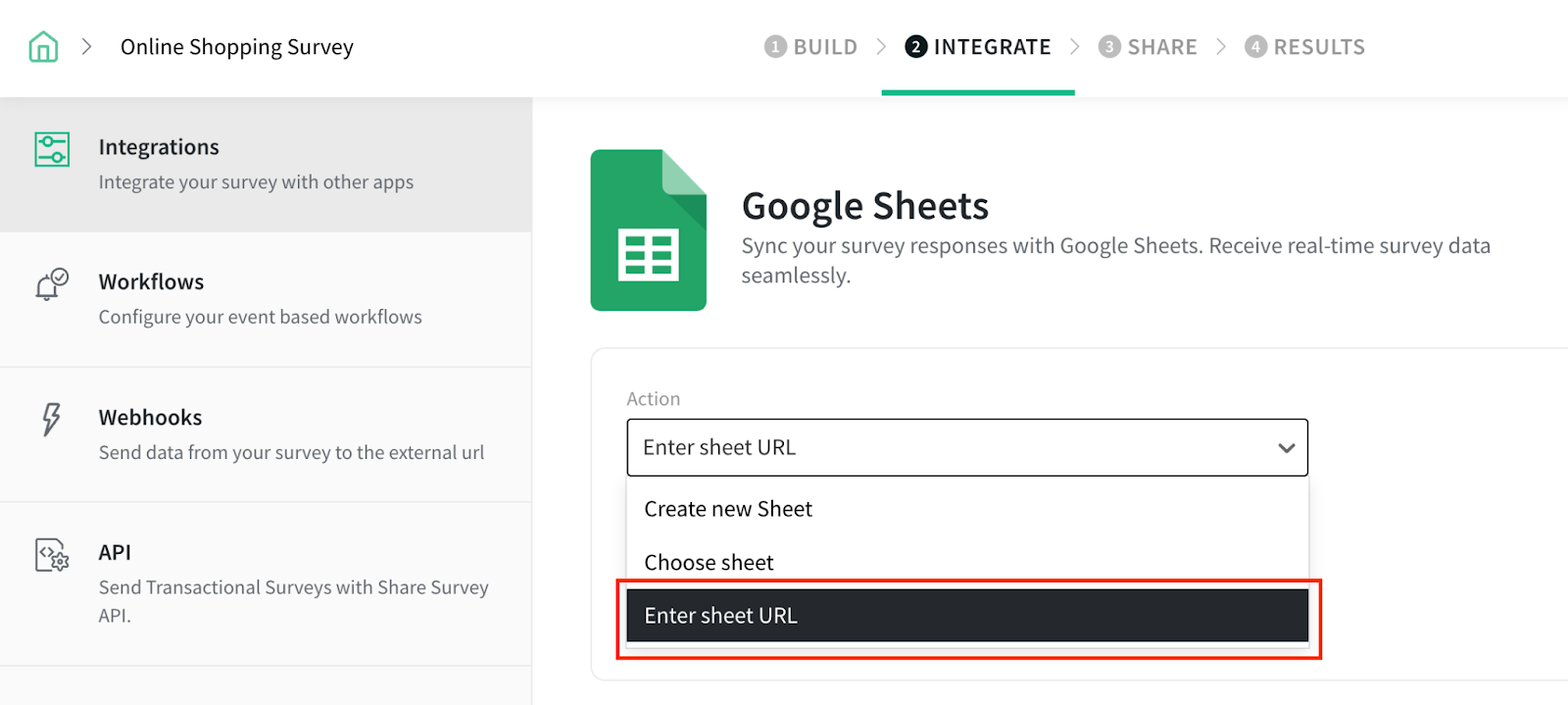 Exporting Responses to Google Sheets
Now that you have set up your spreadsheet, it is time to collect responses. In order to do that, you have the absolute right to select the data that you look forward to adding to the spreadsheet.
Send All Data
You can capture the entire survey data in one spreadsheet by selecting 'Send all data.'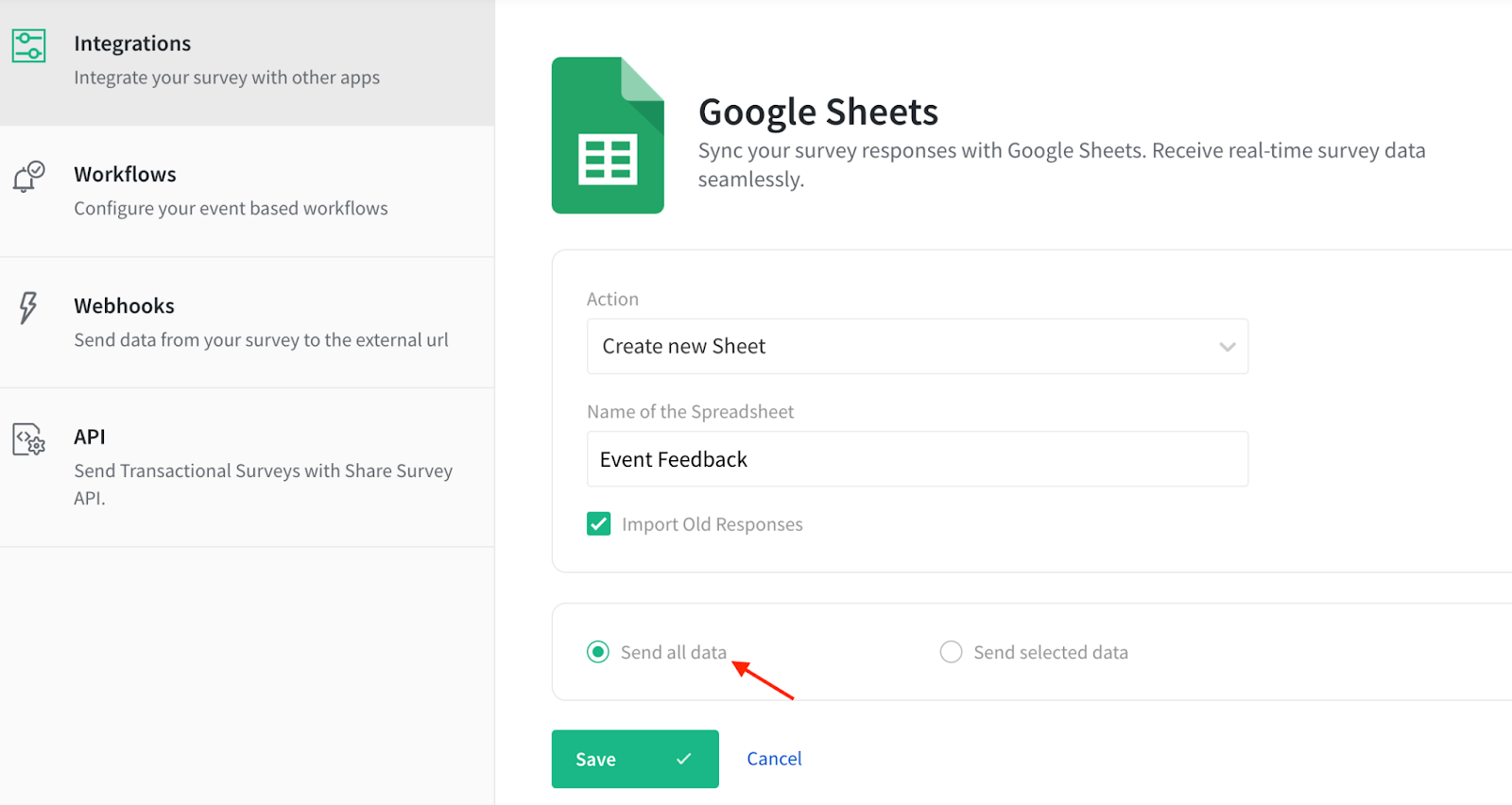 Send Selected Data
You also have the option to tailor-make your spreadsheet with exactly what data you want to collect by selecting the specific parameters under 'Send Selected Data'.
Viewing and Analyzing Responses in Google Sheets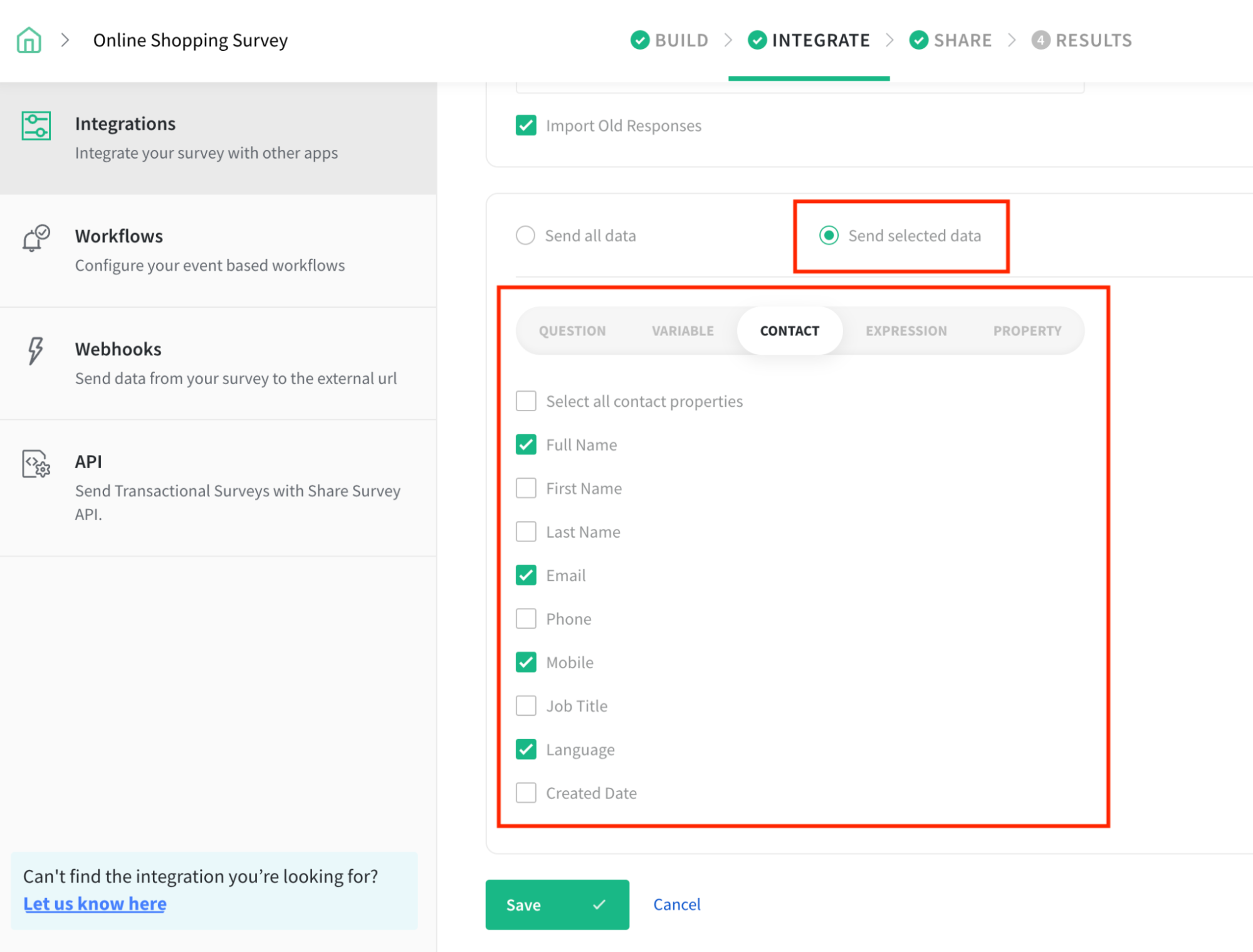 Now you are all set to roll out the survey and track responses in real-time! This is how your spreadsheet looks like, and any new response data gets automatically saved here.

Response for each question is recorded in separate columns, allowing you to gain clear insights.
What Happens When The Responses Exceed The Google Sheet's Cell Limit?
The Google Sheet allows only a 10 million cell limit per sheet. Due to this, we have automated the process so that any responses in excess of 10 million will be recorded in a new spreadsheet.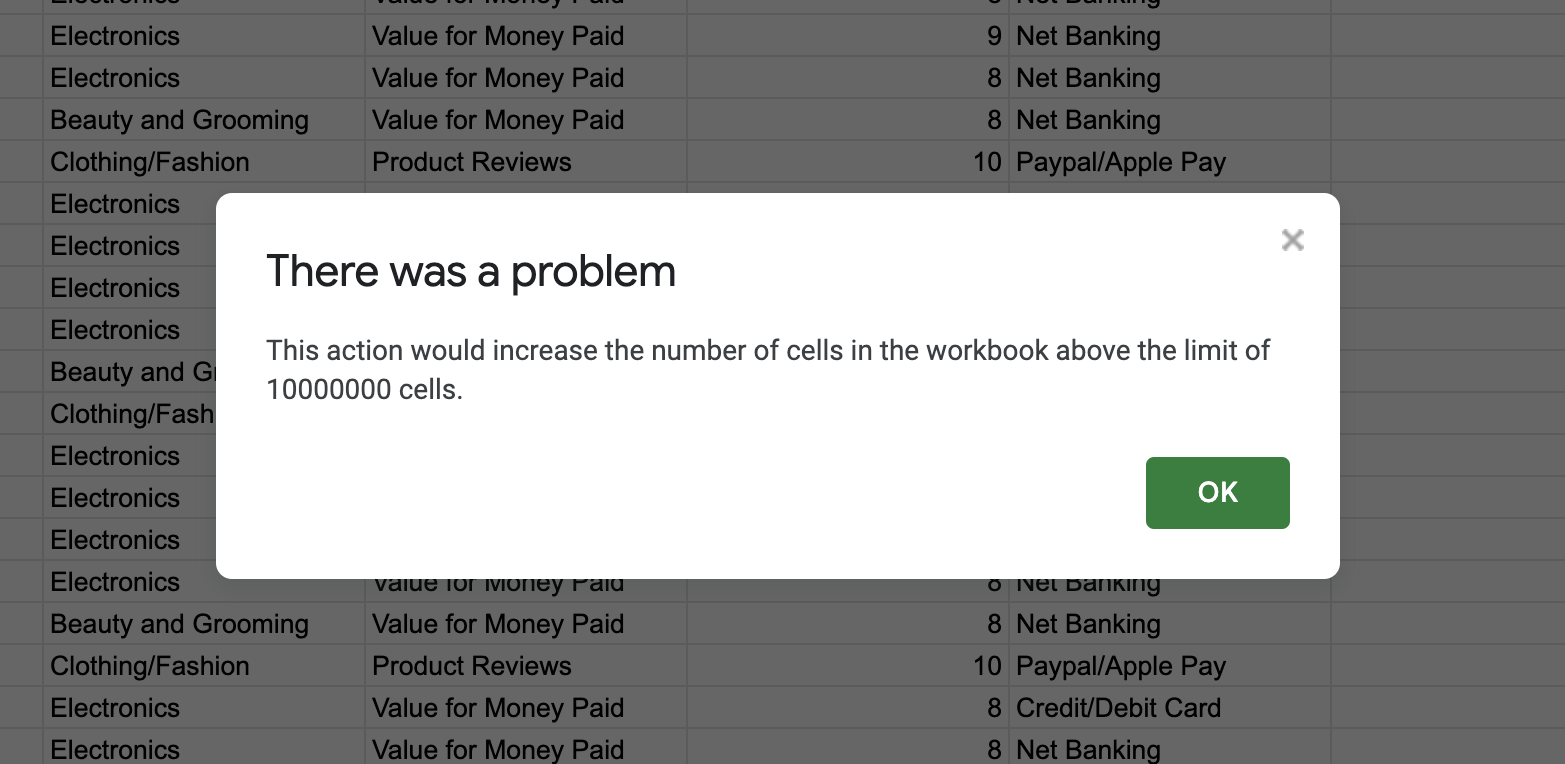 Every time the 10 million cell limit is exceeded, a new sheet with the same name is created in your drive, and previous sheets are renamed automatically.

An email alert, along with the link to the sheet, will be sent to your registered email address whenever a new sheet is created.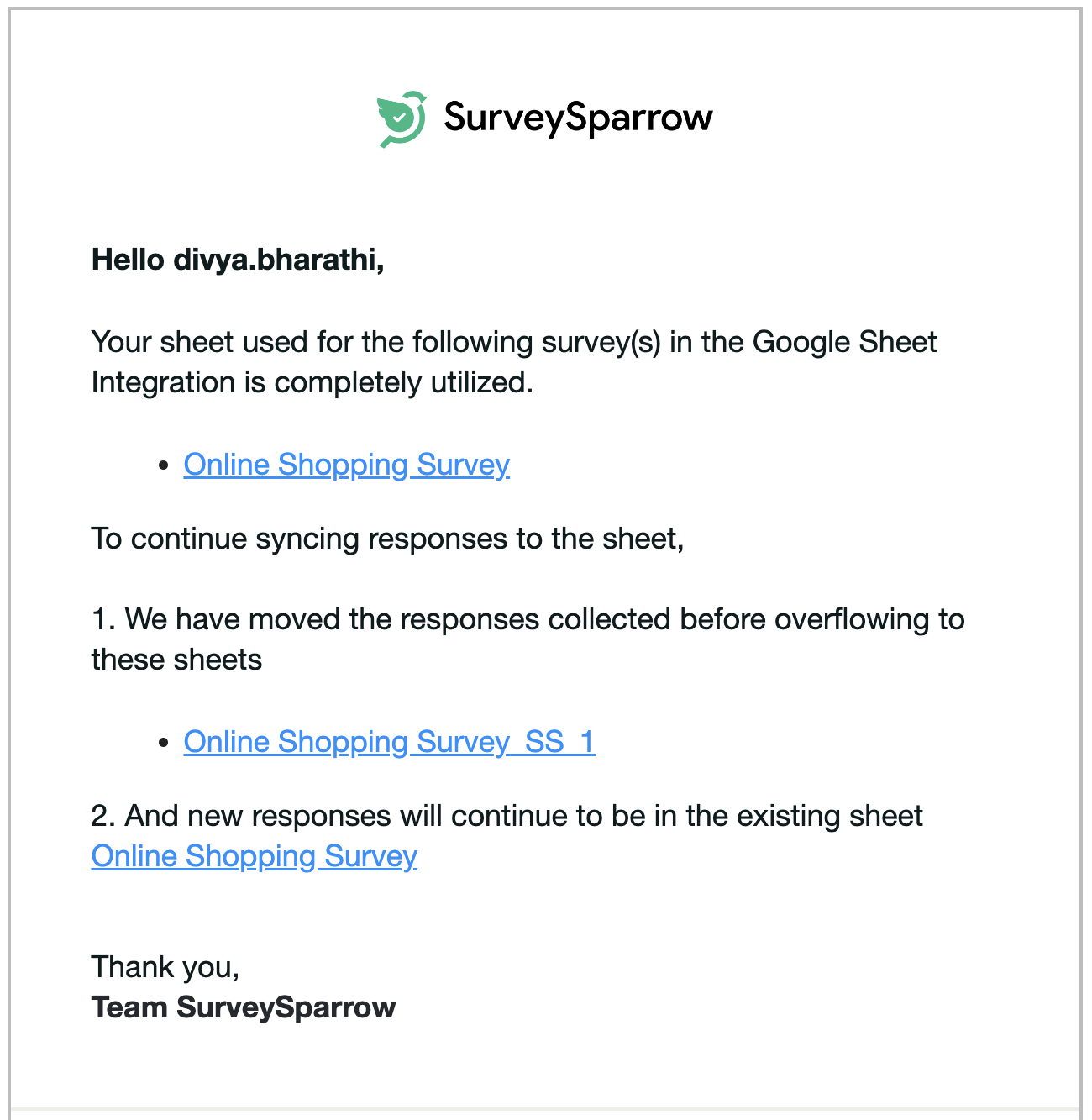 In case the sheet is not saved in your drive, an email alert asking for you to update a new sheet will be sent to the registered email address.
Upon adding a new sheet, you can simply turn on the sync option that is right next to the Google Sheet Integrations toggle will enable you to retrieve all the previous data to the new sheet.

Winding Up,
Following the above steps will make your Google Sheet Integration process much easier. If you are stuck anywhere or need more information, feel free to reach out to our zealous support team right away.